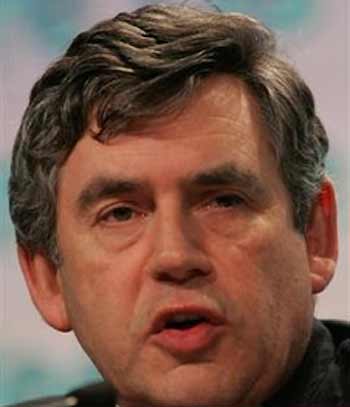 Gordon Brown finally became Prime Minister today. But the really interesting news is that chickens arrived in the Americas 100 years earlier than we thought. They did not arrive with the Europeans, but in Chile with the Polynesians sometime around the early 1400s. And DNA analysis shows the remains of these chickens to be identical to those of chickens found in modern Polynesia. It would have been a 2 week journey, and therefore within their range, for the eastern Polynesians to reach South America.
So what's the connection? Well there wasn't one, but as I wrote I realised it gave me a take on the unaspected Sun-Mercury in Gordon Brown's PM chart: it makes him a headless chicken!
Gordon Brown's audience with the Queen began at about 13.50, during which she asked him to form a government. That's the way we do it in the UK. Who knows what went on? Mind you, there's a 25 year age gap and both of them are already married. Slippery fish Brown (12th House Pisces) meets steady bovine (Sun in Taurus) the Queen. They both have Moon in Leo, so they'll each see the other as a Pretender to the throne. Margaret Thatcher has Moon in Leo, and she famously used the royal 'we' when her first grandchild was born, "We are a grandmother", at which point her ministers knew she was starting to lose it. Though her Moon is also conjunct Neptune, so there's the delusion for you.
So we don't know the exact time Brown became PM, but what we do know is that it is between 2 and 2.45pm. And that the chart is split into 4 unconnected parts: (1) Sun-Mercury in the 9th (2) Moon in Sagittarius (3) Jupiter square to Uranus and (4) Mars, Pluto, Venus, Saturn and Neptune linked up via trines and oppositions.
This isn't necessarily so unusual, but when it involves the 2 basic planets – the Sun and the Moon – then we maybe have to think in terms of a personality – or in this case a government – that isn't very cohesive. A headless chicken.
You could say the Sun is the leader, Brown, and the Moon is the membership of his government, which is narrowly his cabinet and more broadly all Labour MPs. Through the Sun being in the 9th and Moon in Sag, there is a common Sag connection, so there will be a 'spiritual' purpose to this government, and the flavour of that spirituality is apparent in Brown's immediate announcement that he will "try his utmost", a quote from his school motto. We are in the land of the Protestant work ethic, it is hard work that will redeem you, an ethic that workaholic Brown has always lived by. Brown won't be drawn on his belief in God, but like Blair his motivation seems to have a strong religious background.
Brown also promised to reach out beyond the usual party lines and draw on all talents. I don't believe this, just as I didn't believe it when George Bush announced he would govern in a non-partisan way. Bush has been exceptionally partisan (though interestingly he was known for operating in a non-partisan way when he was Governor of Texas, which I find hard to understand). Gordon Brown is known for being a tribal politician, and why should he suddenly change his spots? The Sun of his PM chart is in Cancer, a tribe-loving sign, and sitting on its own next to Mercury Retrograde means that it is not open to the influence of the other planets, it can carry on in its own primitive way.
If we draw this chart for when he left the Palace, then Saturn was in the 10th. It was also in the 10th when he became leader of the party on Monday, and it is in the 10th for Brown's Solar Return for this year. So we have a repeated theme here of high position together with hard work and a sense of responsibility, and I think this is true of Brown, which his 10 year term at the Treasury proves. Unfortunately for Brown, that Saturn is opposite to Neptune in each of these cases, which on the one hand suggests the sense of vocation behind his work, but also says to me that hard work will no longer be enough, his efforts are likely to founder. As a leader you need Neptune onside, you need the theatre and charisma, it is part of the job qualification. In Brown's case, I think the opposition means a lack of Neptune that will undermine all his hard work. Venus - popularity – is conjunct Saturn and also opposite Neptune, and again we have a similar message: yes, he has earned (Saturn) some popularity, but that is not enough, Neptune's lack will undo him. Neptune is in the 4th conjunct Chiron, which does not suggest a firm foundation to his government, despite the firm ideals.
The Sun in the 9th and Moon in Sag also suggests that foreign policy will be very important to this government. With Brown's ideals and known concern for poverty in Africa, this may be one area he emphasises. He's never struck me as a foreign policy man in the way that change-the-world Blair is, but all the same the chart says this may be what happens: it may be events that do it. Iraq, for example, is hardly something he can ignore. And, who knows, he may not want to be upstaged by Blair yet again, who is beginning his job of special envoy to the Middle East.
To sum up, this looks like being a government of ideals and hard work and competence, but which is tribal and divided and lacking in charisma, and whose popularity founders.